The United States Dance Championships is the only national title competition in America and has been attracting the absolute best dancers in the world for the past three decades. The top dancers in the nation are once again coming together in Orlando, FL, to compete for the title of national champion in their respective divisions, and you can watch it all on Thursday, Sept. 7, to Friday, Sept. 8!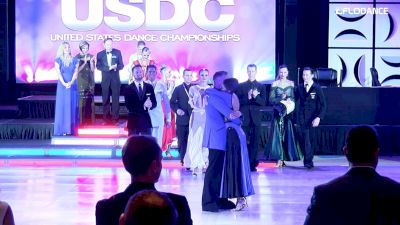 Kyle And Allie Spinder Retire, Announce Pregnancy
Sep 12, 2017
Kyle and Allie Spinder have announced that after many years of dancing professionally they are bringing their competitive careers to an end. The announcement came as the couple took the stand as finalists at the United States Dance Championships this past weekend in Orlando, FL.

The couple was full of emotions and tears as Master of Ceremonies John DePalma read the Spinders' farewell letter aloud, making their bittersweet goodbye official.

The Spinders' love for dance is palpable, and you could feel their heartache as DePalma read through their goodbye letter. However, there was a joyous uproar when the MC announced that the couple had chosen to retire because they were pregnant and expecting their first child in the spring of 2018. That means that Allie Spinder just competed and made it into the finals while pregnant. You go, girl.

In their letter the couple clarified that they may be saying goodbye to competition but not to dance. They have every intention of staying very active in the dancesport community and helping to further the reach of American Smooth around the world.

We are sad to see the Spinders retire, as they are magic on the dance floor and an immense joy to watch. But we are so excited for them to embark on their new journey into parenthood, and we wish them all the best. We know that this is not the last we will be hearing from the Spinders.

Congratulations, Kyle and Allie.