2017 WDSF GrandSlam Latin Moscow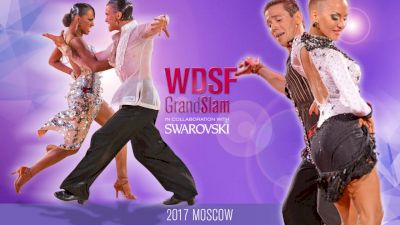 Unlock this video, live events, and more with a subscription!
Get Started
Already a subscriber? Log In
We're back in Moscow for the last regular leg of the 2017 GrandSlam Series. We remember: in 2016, the Latin and Standard competitions deciding over which couples would make it to the "Final Showdown in Shanghai" had to be moved south on the shortest of notice, after the hosts had cancelled them on the shortest of noticd. Luckily, a Spanish organiser took over and staged the GrandSlam Platja d'Aro on the same dates as Moscow was scheduled: the last weekend in October!
One year later it is the All Russian Federation of DanceSport and Acrobatic Rock 'n' Roll, the new WDSF Member, which acts as the host and organiser for the first time. In a big way! Everything seems a little bigger and brighter when it comes to the setting – the atmosphere. The Crocus Expo, the traditional venue, looks better than ever before in a new fit-out! This seems to inspire the dancers too.
In the GrandSlam Latin, we had expected that a number of couples would renounce to dance the Moscow leg as they already had their four results required to qualify for the Shanghai Final. In the end nearly all of them came! Gabriele Goffredo and Anna Matus, MDA, who had four wins to their credit in the 2017 Series, dance in Moscow for the very first time. They knew they have to go up against Armen Tsaturyan and Svetlana Gudyno, RUS, who had won here three consecutive times, if we include last year's substitute event in Spain too.
Timur Imametdinov - Nina Bezzubova, GER, had told us in Stuttgart that they would make it to Moscow. After all, Timur has all of his family and friends here. Maybe it was the absence of the second German couple, Marius-Andrei Balan – Khrystyna Moshenska, that left the small gap for a new couple to make it to the final. But there are six vying for that place, many with final experience already.
A 16-camera production with full graphics plus interviews with the protagonists! The programme is made up of four parts: the full-length semi-final, interviews with some of the finalists, the full-length final, interviews with the medallist couples. The full-length quarterfinal is the bonus feature.
© 2017 World DanceSport Federation - WDSF | All Rights Reserved
Produced by the WDSF Communications team in collaboration with RED SQUARE - Match TV as the host broadcaster and All Russian Federation of DanceSport and Acrobatic Rock 'n' Roll.