2017 WDSF GrandSlam Moscow Standard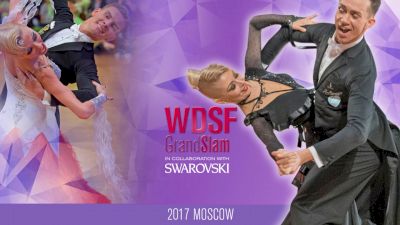 Unlock this video, live events, and more with a subscription!
Get Started
Already a subscriber? Log In
The Latin dancers, too, were delighted over the return of this fifth regular GrandSlam leg to the location it was originally assigned to: Moscow, RUS. After the one-year hiatus, when they were forced to travel to the Spanish Costa Brava to dance, it seemed so much easier - for almost everybody. Out of 175 couples which had entered the GrandSlam Standard in Moscow, 150 were from Russia. An impressive ratio that reflects perfectly how deep talent runs in Russian DanceSport.
When it came to the decisive stages, the percentage of non-Russian couples increased - but only at first glance. Many of the quarter- and semi-finalists from abroad had one partner holding a Russian Federation passport too.
In the first BIG final after Simone Segatori and Annette Sudol had announced that they were turning professional, there was supposedly on vacancy up for grabs by those couples making the cut on a less consistent basis. In the end, Alexey Glukhov - Anastasia Glazunova, RUS, claimed it, with Anton Skuratov - Alena Uehlin, GER, and Madis Abel - Aleksandra Galkina, EST. It should only be a matter of time before we will see Madis and Aleksandra dance their first final!
Yes, Dmitry Zharkov - Olga Kulikova, RUS, won this GrandSlam too, making it five out of five for the Series. They did so as convincingly as ever, but right behind them - just over three points back - were Evaldas Sodeika - Ieva Zukauskaite, LTU. They had their highest GrandSlam total ever: 193 points! Second runners-up were Francesco Galuppo - Debora Pacini, ITA, ahead of Evgeny Moshenin - Dana Spitsyna, RUS. Vaidotas Lacitis - Veronika Golodneva, LTU, whom we had interviewed prior to the GrandSlam, had to content themselves with 6th place.
A 16-camera production with full graphics plus interviews with the protagonists! The programme is made up of four parts: the full-length semi-final, interviews with some of the finalists, the full-length final, interviews with the medallist couples.
© 2017 World DanceSport Federation - WDSF | All Rights Reserved
Produced by the WDSF Communications team in collaboration with RED SQUARE - Match TV as the host broadcaster and the All Russian Federation of DanceSport and Acrobatic Rock 'n' Roll.