2017 WDSF World Standard | The Quarterfinal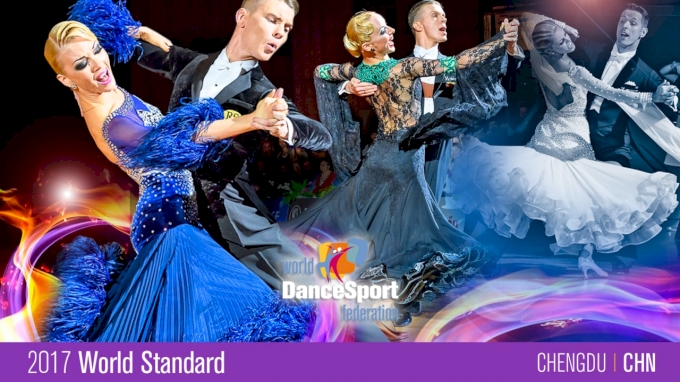 Unlock this video, live events, and more with a subscription!
Get Started
Already a subscriber? Log In
Dmitry Zharkov and Olga Kulikova, RUS, have conquered the last two strongholds of Simone Segatori and Annette Sudol, GER, by winning the GrandSlam in Hong Kong and Stuttgart in July and August, respectively. As the scale started to progressively dip in favour of the Russians, there were at least two major competitions where the Germans kept claiming victories. Three consecutive times - until this year!
Now Dmitry and Olga stand poised to be crowned World Champions for a third time, something that would put them in a league with four legendary couples: John and Betty Westley, Richard Gleave and Janet Wade, both representing England, or, more recently, Paolo Bosco – Silvia Pitton, ITA, and Benedetto Ferruggia – Claudia Koehler, GER.
If, on the other hand, Simone and Annette return to their winning ways here in Chengdu, CHN, it would not only tie them with Dima and Olga at two titles, it would see them match the records of their trainers: William Pino and Alessandra Bucciarelli, ITA, as well as Oliver Wessel-Therhorn, GER, their mentor until his untimely death.
Everybody be reminded: Simone and Annette last defeated Dima and Olga in China. That was in the Shanghai GrandSlam Finals not even ten months ago.
Obviously, there is a lot at stake for the two favourite couples. But winning or losing, both will put up a good fight and show the incredible level of dancing that they have treated us with time after time over the past three years. Ever since this rivalry started back in 2014, we have seen exceptional dancers pushing each other to greater heights with every competition.
Evaldas Sodeika - Ieva Zukauskaite, LTU, who have kept up and even drawn a little closer in the last competitions, could make it their fourth consecutive third-place finish in a World Championship. Or they could stage the surprise?
One couple that won't be in the Chengdu final: Bjorn Bitsch and Ashli Williamson. They announced that they would move on to the next chapter in their career by dancing the 2017 PD World Standard that is scheduled to take place one week after this one in Prague, CZE.
A seven-camera production with full graphics plus interviews with the protagonists! The programme is made up of four parts: the full-length semi-final, interviews with some of the finalists, the full-length final, interviews with the medallist couples. The quarterfinal is offered as an extra feature.
© 2017 World DanceSport Federation - WDSF | All Rights Reserved
Produced by the WDSF Communications team in collaboration with the Chengdu host broadcaster and the Chinese DanceSport Federation CDSF.
All music played during the semi-final of the 2017 World Standard is available from WDSF Music Partner Casa musica. Access the full playlist!