2016 WDSF World Latin | The Quarterfinal (Bonus Feature)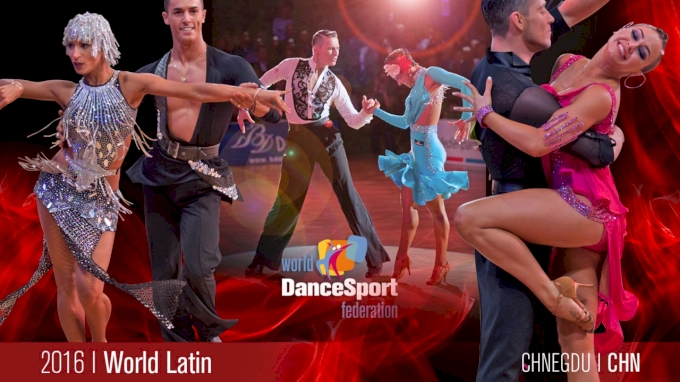 Unlock this video, live events, and more with a subscription!
Get Started
Already a subscriber? Log In
The Chengdu organisers have been building up to this, gradually, over recent years. They have been running the two World Championships in ShowDance since 2014, after taking over from the previous perennial host city Beijing. In 2015 they ran the World Ten Dance. This year it is the World Latin, the championship that draws the biggest attention of them all.
Participation in this World Latin is slightly below the levels of the last two editions - Vienna, AUT, and Ostrava, CZE - and maybe there is an explanation for that too. The bureaucracy to obtain a visa at some of the Consulates and Embassies of the People's Republic of China was particularly challenging this year. One couple was denied a visa: Norwegian Champions Petter Engan - Kine Mardal were not able to travel to Chengdu.
Of the 74 couples entered are all the favourites for the title. Defending World Champions are Gabriele Goffredo - Anna Matus, MDA. Armen Tsaturyan - Svetlana Gudyno, RUS, the first runners-up in 2014 and 2015, have high ambitions to finally make it to the upper echelon of the podium. And Germany is represented by two couples that have the proven ability to come very close to or even beat the two mentioned earlier: Marius-Andrei Balan - Khrystyna Moshenska and Timur Imametdinov - Nina Bezzubova. Who else, you are asking? Charles-Guillaume Schmitt - Elena Salikhova, FRA, have come in third in a European but missed the podium in World Championships so far. Fourth was their best place. And there are quite a few others too: Yury Simachev - Anastasia Klokotova, RUS, were finalists last year in Vienna; Edgar Marcos - Alina Nowak, ESP, Umberto Gaudino - Louise Heise, DEN, Andrea Silvestri - Varadi Martina, HUN, missed out on that narrowly, coming in seventh through eighth.
The competition will be tight and the adjudicators challenged, but this is what makes watching the decisive stages of a World Latin so compelling.
A seven-camera production with full graphics plus interviews with the protagonists! The programme is made up of four parts: the full-length semi-final, interviews with some of the finalists, the full-length final, interviews with the medallist couples. The quarterfinal is offered as an extra feature.
© 2016 World DanceSport Federation - WDSF | All Rights Reserved
Produced by the WDSF Communications team in collaboration with the host broadcaster and the Chinese DanceSport Federation CDSF.
All music played during the semi-final of the 2016 World Standard is available from WDSF Music Partner Casa musica. Access the full playlist for the rounds 2 - 5 at worlddancesport.org/Event/Competition/World_Championship-Chengdu-20582/Adult-Latin-47472