2017 WDSF GrandSlam Standard Helsinki _ Promo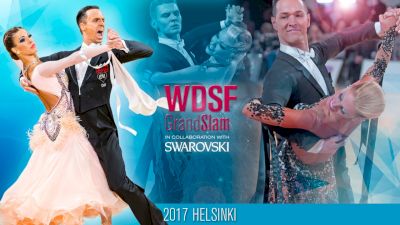 Unlock this video, live events, and more with a subscription!
Get Started
Already a subscriber? Log In
The 2017 GrandSlam Standard Helsinki will do what it always does: it establishes the first reference for the year. Three months have passed since the top couples had all entered into one and the same competition. It was the GrandSlam Standard Final in Shanghai on 12 December 2016. Since then, most of them have competed very selectively at the international level - and in avoidance of having to go up against whom they consider their main opponents in the World and GrandSlam Rankings. In the case of the top two in last year's rakings, Dmitry Zharkov - Olga Kulikova, RUS, and Simone Segatori - Annette Sudol, GER, come off convincing wins at World Opens in Antwerp, BEL, and Tokyo, JPN, respectively.
In Tokyo, Simone and Annette were assessed by adjudicators using the new Judging System Version 3.0 that brings significant improvements to the judging process, at the request of the Competition Manipulation Task Force, making it much more resistant to attempts of collusion than its predecessor 2.1. This will be the first GrandSlam ever judged with JuDSys 3.0 and the results should be revealing in many ways.
An 8-camera production in High Definition covering the decisive stages of the GrandSlam Standard Helsinki. With full graphics but without commentary. The programme is made up of four parts: the full-length semi-final, interviews with the finalists, the full-length final and interviews with the medallists. Approximately 90-minutes running time.
Produced by the WDSF Communications team in collaboration with the host broadcaster YLE and the Finnish DanceSport Federation.