Why Dancing During a Pandemic Is Important, Even If It's Tough
Why Dancing During a Pandemic Is Important, Even If It's Tough
The coronavirus pandemic is making it difficult to feel motivated, but we encourage all of you to keep on dancing!
Apr 16, 2020
by FloDance Staff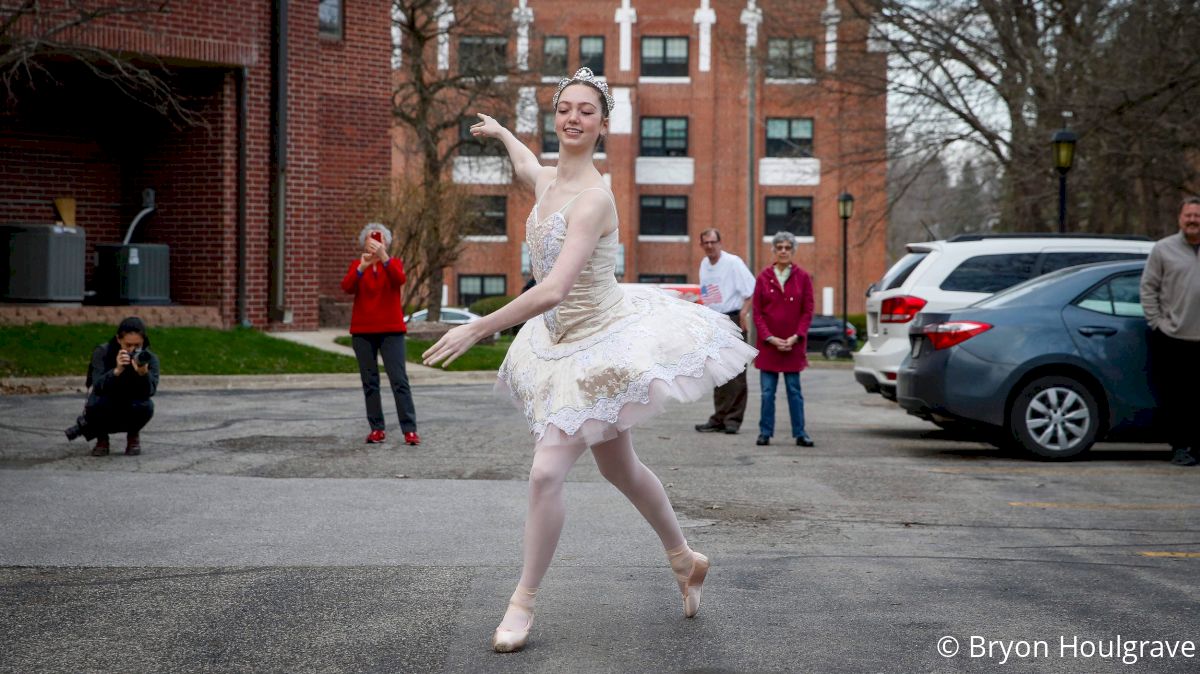 The coronavirus pandemic has stranded all of us in our homes, and for dancers, that's especially difficult! We like to move, sweat, rehearse, perfect our routines, and express our creativity with our bodies. This whole lockdown thing is almost making that impossible.
But there's still hope!
Dance Magazine has an awesome story about how Katherine Disenhof pivoted to something different when her dance company shut down its operations because of COVID-19. Disenhof started Dancing Alone Together, a "central resource for finding dance-based classes, prompts, and performances online in this time of isolation." We encourage you to visit their website to learn more about the project, which is helping connect individuals to local studios and communities across the country.
"I hope we will all go back to our studios more connected," Disenhof said. "Maybe it'll bring more people to the studios."
Even though it can be tough, here's why we think you should keep on dancing.
Dance to support your local community
Small businesses across the country (and the world, for that matter) are suffering greatly. That includes dance studios and companies, too, who really can't earn their sell tickets to events or do classes like they normally would to help support their art. This is where you can step in!
Even with the lockdown, dance studios are doing virtual classes and even one-on-one lessons to help you stay in the groove. This is a win-win situation.
We also know that many people are out of work and may not be able to afford individual lessons, but there are a lot of affordable options out there, and one thing we've also seen very commonly is free trials. Don't be afraid to use those! But even if you only take a class or virtual event every now and then, we think it's worth the effort and community support.
Dance to provide routine & exercise
We don't know about you, but one of the best ways we've found as we've navigated the ups and downs of the coronavirus — and there have been a lot of ups and downs! — has been to start a routine. Exercising is one of the best and most consistent things you can do when forming a routine, and it has all the added benefits of cardiovascular and muscular health, too!
Or . . . don't dance at all!
Another Dance Magazine article also makes a great point, though: if all this talk of taking classes online and getting better each day stresses you out, then don't worry about it! There are a million ways to connect to and support dance communities near you, so find whatever non-stressful way works best in your situation.
"There's no question that virtual class offerings are bringing a sense of joy, community, and normalcy to many dancers," Hallie Chametzky writes in the article. "At the same time, those who don't feel like participating shouldn't worry that they aren't dancers anymore, or that a break in their training will ruin their dreams for a career in dance. Dancers have always had unique, individual ways of dealing with life's difficulties. And if 'dancing through it' isn't what you need, that's okay."
Whatever you do to get through the COVID-19 lockdown, we hope that dance is playing some role in that. Everybody is taking this pandemic one week at a time, and even if you don't feel like dancing today, maybe tomorrow or next week you'll wake up and feel differently. If that happens, there are so many resources and local dance companies and studios to help support. We hope that you connect with them and stay healthy!