2020 UCWDC World Championships
The Best Time of the Year: 2020 UCWDC World Championships Preview
The Best Time of the Year: 2020 UCWDC World Championships Preview
It's time again for the UCWDC Country Dance World Championships held at the beautiful Gaylord Opryland Resort and Convention Center in Nashville, Tennessee.
Dec 28, 2019
by The Girl with the Tree Tattoo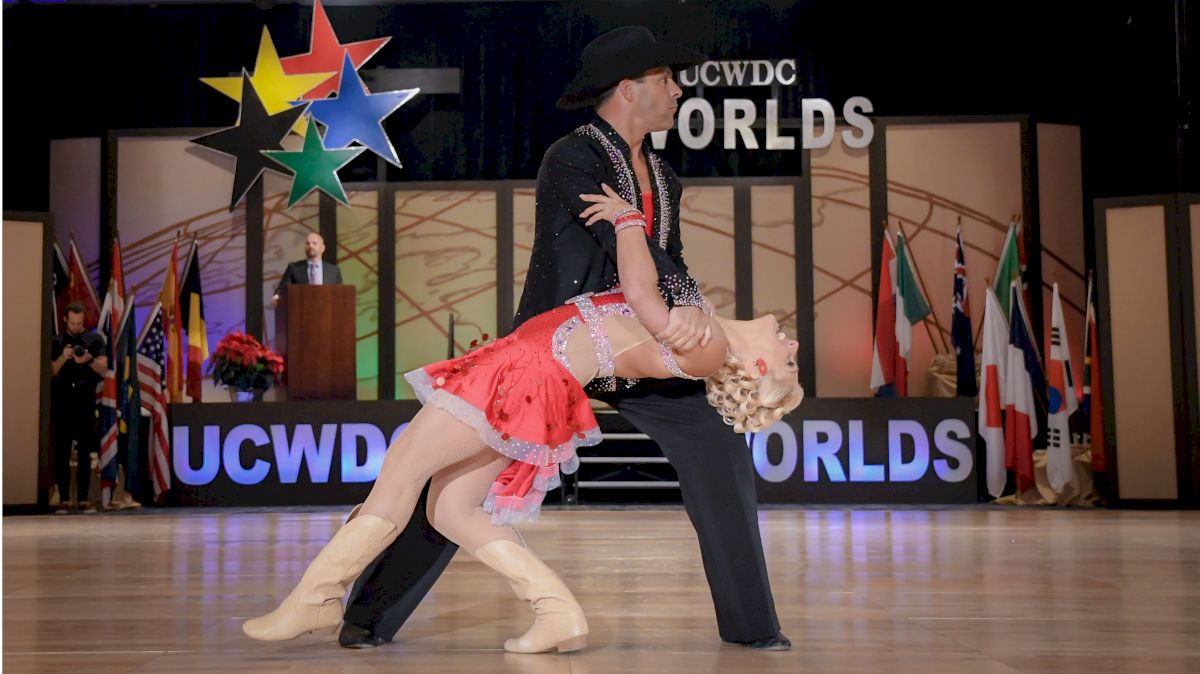 It's time again for the UCWDC Country Dance World Championships, friends! Held at the beautiful Gaylord Opryland Resort and Convention Center in Nashville, Tennessee, next week promises nonstop dancing in the form of workshops, daily competitive events, and nightly social dancing. Dancers, amateur and professional alike, from around the world have been preparing for this event all year. Some will be competing at Worlds for the first time, while others are returning to defend their titles or try for a second title at a new level.
FloDance will be there all week to live stream the action, so you don't miss a single two-step. Here are some of the highlights to look forward to:
The competition kicks off on Monday, December 30th, with the ProAm Classic Newcomer and Syllabus events. The ProAm divisions, including Novice, Intermediate, and Advanced, continue into the New Year, with the Intermediate and Advanced divisions finishing on Thursday, January 2nd. Line Dance Choreography, Intermediate and Advanced divisions take over Thursday afternoon.
Thursday evening's "Premier Extravaganza" is the first of three "Extravaganza" shows with UCWDC Teams, Line Dance Crown, Couples Classic and Couples Showcase Crown divisions all competing. The Couples and Line Dance divisions continue on Friday, leading up to the second "Extravaganza" on Friday night. This one is a can't miss with Couples Showcase Masters, Line Dance Rising Stars, Line Dance Superstars, and the Worlds ShowTime "Open" Championships all happening on one night.
Fiona Murray, runner-up in Female Line Dance Superstars at the 2019 Worlds, is returning for another crack at the World title. She's taken first place in single dances at all of her other events this year, but she'll have more competition at Worlds, as the division will include at least six registered competitors. However, her hard work and dedication have already earned her the title of 2019 Points Champion for the Line Dance Female SuperStars category. Well done!
Three-time Showcase Masters champions, Chris and Emily Bailey will also be returning to defend their title against Josh Zuniga and Melissa Fox. These two couples haven't yet competed against each other this year, but what better place to show off their skills than at Worlds? Mark your calendars for this one!
The Couples divisions continue on Saturday, including the highly anticipated Couples Open Division I. A total of 12 couples are registered to compete, including top couples Sebastian Quinones & Alexis Garrish and Christopher Muise & Amanda Clark, and new-to-the-scene couple Joseph Lettig & Madalina Varlam. Jimmy Mulligan and Elina Sharipova will also be in contention for the title after showing out and winning the division at Christmas in Dixie just two weeks ago! Competitors in Open Division I have been trading spots on the podium all year so it will surely be a closely contested event. Jimmy and Elina will be trying to follow in the footsteps of Newell DeFreest and Rachel Mercedes, who moved up to Classic Masters after their win last year. We will all be watching this group closely!
Speaking of Classic Masters, be sure to tune in to Saturday evening's "Extravaganza" for the final showdown of the best Country dancers in the world! Among these include Mike Wagner and Satu Ketellapper, who are returning to defend their 2019 World Champion title, along with the 2019 runners-up, Sloane Hansen and Bernadette Carmichael. Sloane and Bernadette were the 2018 World Champions in Classic Masters. Will they take the title back this year or will Mike and Satu hold their ground? You'll have to watch to find out.
Join FloDance and ring in the new year and the new decade with us at the 2020 UCWDC Country Dance World Championships in Nashville. See you there!