2019 UCWDC Christmas in Dixie
Two-Steppin' Down Santa Claus Lane
Two-Steppin' Down Santa Claus Lane
The final competition of 2019 is officially complete, which means Worlds is just around the corner!
Dec 18, 2019
by The Girl with the Tree Tattoo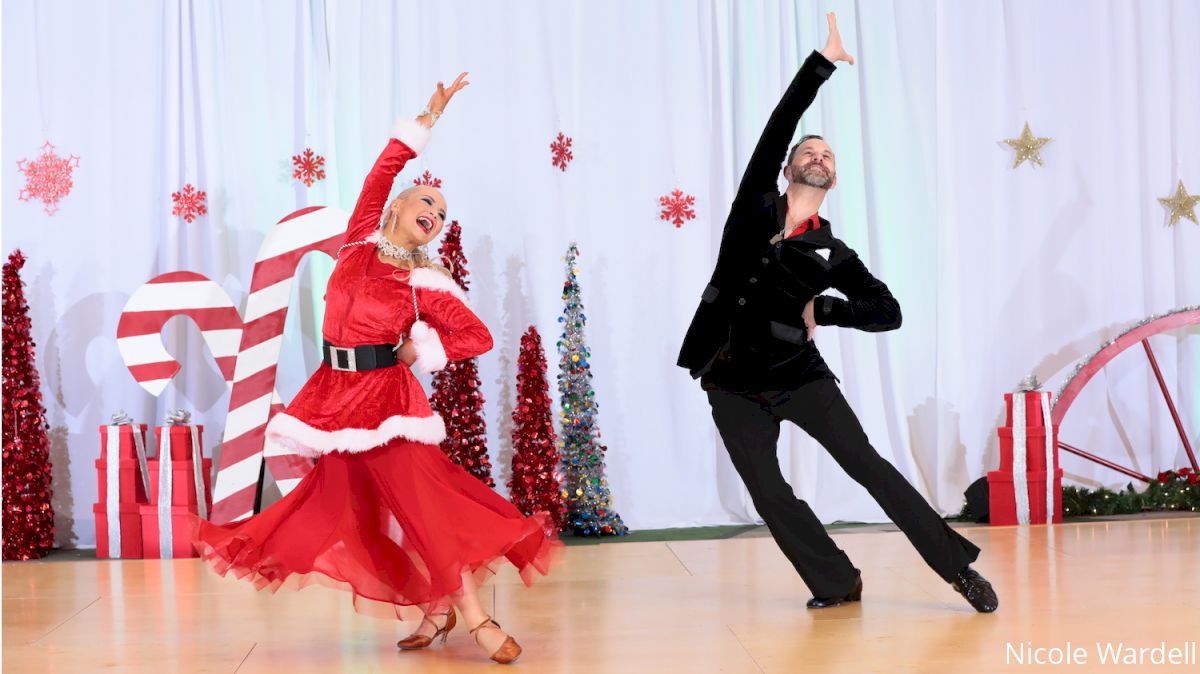 The final competition of 2019 is officially complete, which means Worlds is just around the corner! Couples who qualified to dance in Nashville at the UCWDC Country Dance World Championships are surely making their final tweaks and adjustments and preparing to compete on the biggest stage in country western dance.
While competitors were certainly feeling some pressure at Christmas in Dixie with it being the last chance to qualify for Worlds, the event was full of holiday cheer. Even Santa got into the country spirit when he showed up during the Saturday evening show, handed out treats to all the good boys and girls, and then danced a little two-step before returning to his toy workshop to prepare for the big day.
In the ProAm divisions, Linda Weishahn and her teacher Charles Jones enjoyed a clean sweep in Female Diamond Newcomer against 10 other couples and nearly a clean sweep (they took second in East Coast Swing) in Female Silver Newcomer against 12 other couples. Ken Harden and his teacher Vickie Rose took first in four different events: Male Silver Newcomer, Male Diamond Newcomer, Male Crystal Newcomer, and Male Open Newcomer. Great job, Ken! Way to make your teacher work! Vickie Rose must have been feeling very proud of her students at Dixie as she had a total of five pupils who won their divisions.
In the Couples Divisions, Jimmy Mulligan and Elina Sharipova celebrated their win in Couples Open I. This division is going to be one to watch at Worlds. While there are some strong contenders, the scores show they're closely matched and can trade places at any time. Christopher Muise and Amanda Clark were runners up overall but took first place in Triple Two and Polka (which Jimmy and Elina didn't dance). Alex Slatsky and Rachel Watts were third overall, but their individual dance scores were an even mix of second and third placements. The fourth-place winners, Ben Howard and Emily Larsen, actually took first place in Two-Step. The fifth-place winners, Todd Longsworth and Jamie Hoyt, made a strong showing in Triple Two and earned a second place in that dance. The bottom line is everyone will need to bring their A-game to Worlds if they hope to advance or at least hold their position.
Only two couples competed in Classic Masters at Dixie: Mike Wagner & Satu Ketellapper and Ronnie DeBenedetta & Brittney Valdez. Having just two couples on the floor gives the audience a chance to appreciate their respective styles. Mike and Satu floated regally across the floor during their first flight, consisting of Waltz, Nightclub and Triple Two (they did not dance West Coast Swing). Their poise and control in their dancing beautifully supported their full expression of emotion and connection with each other. In short, they made it look easy.
To finish up the first flight, Brittney and Ronnie danced West Coast Swing solo. Brittney's smile lit up the ballroom as she and Ronnie took their place. You couldn't help but smile with her as the two grooved through the whole song. They continued to feel the rhythm through the second flight, consisting of Two-Step, Cha Cha, Polka, and East Coast Swing. Whether you felt pulled toward Brittney and Ronnie's fun, "let loose" style or Mike and Satu's reveling in their strength and quality, you surely enjoyed a fantastic night of some amazing country dancing.
At the end of the night, Mike and Satu were named the winners of the Classic Masters division, although Brittney and Ronnie didn't let them sweep and claimed first in West Coast Swing, Two-Step and Polka.
We hope you can join FloDance at the 2020 UCWDC World Championships, held in Nashville, Tennessee. Live coverage begins on December 30th. Happy holidays, and as always, happy dancing!