2019 UCWDC New Mexico Dance Fiesta
It's Fiesta Time! - What to Expect at the 2019 New Mexico Dance Fiesta
It's Fiesta Time! - What to Expect at the 2019 New Mexico Dance Fiesta
It's fiesta time in Albuquerque! The 30th anniversary of the New Mexico Dance Fiesta is happening this weekend.
Sep 25, 2019
by The Girl with the Tree Tattoo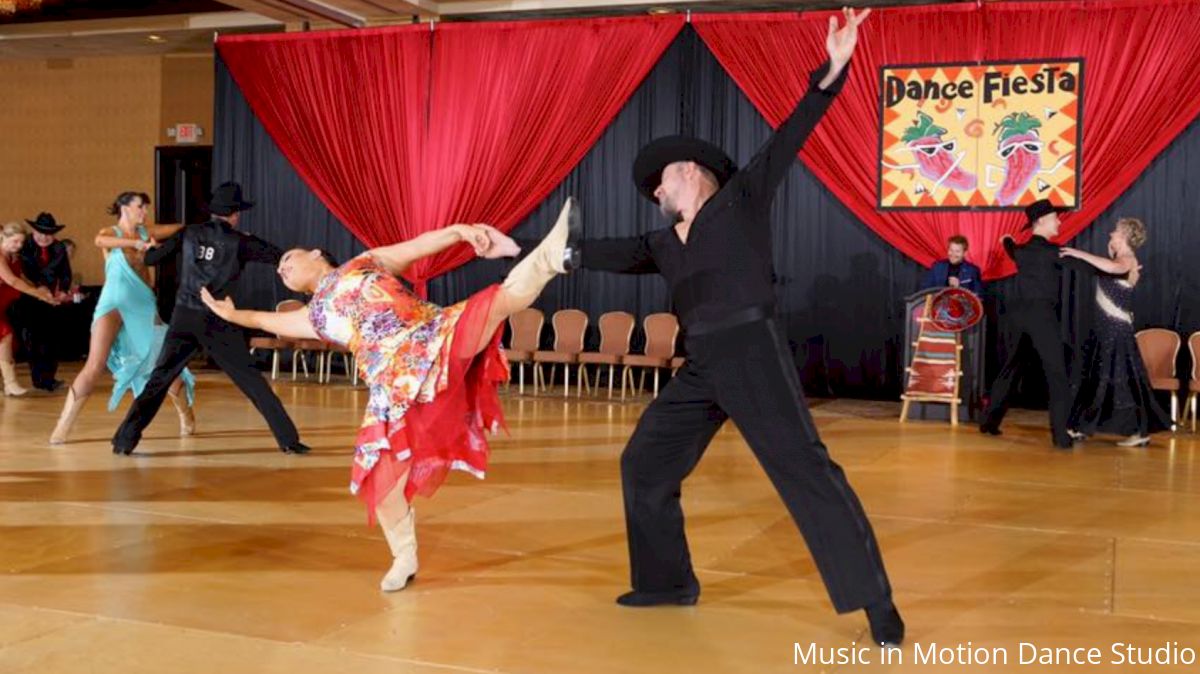 It's fiesta time in Albuquerque! The 30th anniversary of the New Mexico Dance Fiesta is happening this weekend. This UCWDC-sanctioned event was started by dance couple Mike Haley and Patti Miller, and ballroom coordinator Steve Stevens in 1989. Though the competition has changed hands a few times over the years, it continues to be a can't miss event full of dancing and great times with dance friends and family.
To celebrate its pearl anniversary, the Dance Fiesta is kicking off with a welcome party Thursday night. Partiers are encouraged to don their best 80s outfit as they turn the clock back to when it all began.
Friday morning offers a chance to rest your cowboy boots as dancesport couples are welcomed onto the competition floor. Country western dancing resumes Friday afternoon with events that include Intermediate and Advanced ProAm, Showcase and ProPro. The ProAm events continue through Saturday. The dance floor will be full Saturday morning with the ProAm Newcomer and Novice events featuring as many as 13 couples!
The Division 1 couples take over Saturday afternoon. Although the Couples Open Division 1 only has three couples competing at Dance Fiesta, it shouldn't be skipped because top couple Sebastian Quinones and Alexis Garrish are registered to appear. They'll be dancing against newer-to-the-scene couples Aaron Lorenzen & Lannie Sullivan and Joseph Lettig & Madalina Varlam.
The big players come out on Saturday night, including the Classic Masters and a reappearance of Sebastian Quinones as the Superstar Line Dancer. It's anyone's dance in the Classic Masters event as the top three couples, Mike Wagner & Satu Ketellapper, Newell DeFreest & Rachel Mercedes, and Sloane Hansen & Bernadette Carmichael, are not registered to compete. The evening also includes some incredible guest performances, including shows by 7-time UCWDC World Champions Marc Davidson and Sylvie Raymond.
Be sure to grab your coffee with breakfast because we can't stop, won't stop on Sunday with the remaining Couples Divisions, Line Dance, Teams, Diamond Showcase and Juniors events happening all morning. Then, we switch gears a bit for Jack and Jill Swing and Country Two-Step events Sunday afternoon. The Dance Fiesta ends like it started - with a party!
If you're in the Albuquerque area, be sure to stop the beautiful Crowne Plaza Albuquerque to check out the New Mexico Dance Fiesta. Not local? No worries! Join us here and watch the event live on FloDance.com.