2019 WDSF GrandSlam Rimini Standard and Latin
Armen Tsaturyan & Svetlana Gudyno Victorious In Rimini
Armen Tsaturyan & Svetlana Gudyno Victorious In Rimini
The third GrandSlam of the WDSF calendar year has officially concluded here in Rimini, Italy.
Jul 16, 2019
by Michelle Blank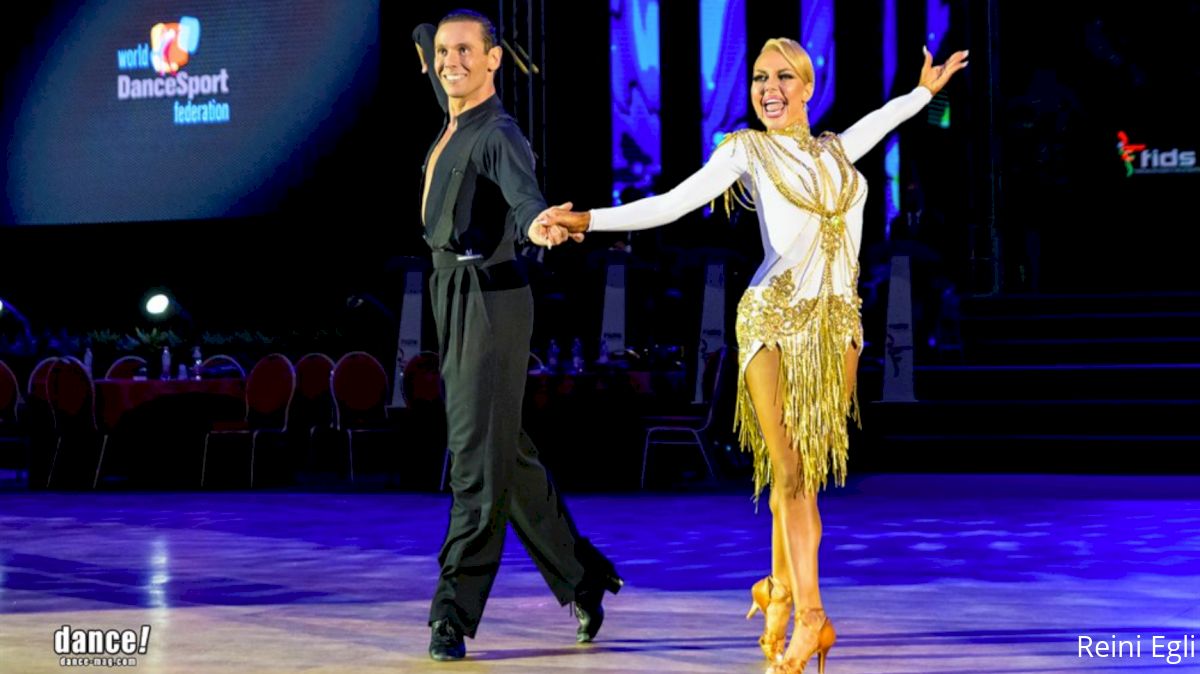 And things keep changing! The third GrandSlam of the WDSF calendar year has officially concluded here in Rimini, Italy, and we found ourselves face to face with some intriguing occurrences!
With two finalist couples out of the running for the title due to their absence, Andrey Gusev and Vera Bondareva of Russia along with Andrea Silvestri and Martina Varadi of Hungary gave way to others to conclude this annual event on another step towards victory.
It was the night of Jakub Lipowski and Diandra-Aniela Illes, a duo that made Poland proud for making their very first GrandSlam final ever!
Just last month in Taipei, Konstantin Gorodilov and Dominika Bergmannova of Estonia also made their first GrandSlam final, finishing in sixth, and Paul Moldovan with Cristina Tatar of Romania took seventh, another couple who achieved their highest placement ever in a GrandSlam event. They reached the heights of the semifinal and were destined to make the top-six final sooner or later. Our Polish couple actually concluded in eighth position in Taipei. For this reason, it was in favor of either Estonia or Romania to conclude the final six here in Rimini. But no, Poland made its breakthrough, now with two of its couples in the final!
However, it's essential to remember that the top couples of this division are so tight in terms of technical and performing skills that they can easily swap places from competition to competition. Someone works just a bit harder than the rest, and a few weeks later, the results will show this. Nonetheless, outside forces also control such changes, including the adjudicators, the atmosphere, one's own personal feelings that day, and so on.
GrandSlam Win No. 13 for Russia
Our champions here in Rimini, Armen Tsaturyan and Svetlana Gudyno of Russia, took their 13th GrandSlam title yesterday, with their main competitors from Germany trailing close behind in second. Here are the final placements of the top six couples after three solo dances of the cha cha, rumba, and jive and two group dances of the samba and paso doble.
| | | |
| --- | --- | --- |
| Rank | Couple | Country |
| 1. | Armen Tsaturyan - Svetlana Gudyno | RUS |
| 2. | Marius-Andrei Balan - Khrystyna Moshenska | GER |
| 3. | Timur Imametdinov - Nina Bezzubova | GER |
| 4. | Charles-Guillaume Schmitt - Elena Salikhova | FRA |
| 5. | Edgar Marcos Borjas - Alina Nowak | POL |
| 6. | Jakub Lipowski - Diandra-Aniela Illes | POL |
Tsaturyan and Gudyno successfully earned more than 39.00 points for each dance performed, which resulted them in concluding the final with 197.541 points out of a 200 possible. They were 2.459 points away from achieving a perfect score, which is 40.00 points per dance. It was their highest score in a GrandSlam event this year so far, and possibly of their entire careers!
A Very Heated Semifinal
From a total of 126 couples, the heat of action actually took place in the semifinal—into which advanced 13 couples. Here are the concluding semifinal placements:
| | | |
| --- | --- | --- |
| Rank | Couple | Country |
| 7. | Konstantin Gorodilov - Dominika Bergmannova | EST |
| 8. | Vito Coppola - Oona Oinas | ITA |
| 9. | Yan Bangbang - Du Yujun | CHN |
| 10. - 11. | Anton Aldaev - Natalia Polukhina | RUS |
| 10. - 11. | Paul Moldovan - Cristina Tatar | ROU |
| 12. | Malthe Brinch Rohde - Sandra Sorensen | DEN |
| 13. | Winson Tam - Anastasia Novikova | CAN |
As we can see, Gorodilov and Bergmannova jumped back down into the semifinal from last month's Taipei final, as did Moldovan and Tatar of Romania, who just last month were one step away from the final in seventh place. Now they share the 10th- and 11th-place position with Russian duo Anton Aldaev and Natalia Polukhina. Also, we can notice that little by little, Italian duo Vito Coppola and Oona Oinas are progressing from event to event, climbing up the ladders of competition in achieving higher and higher results.
Overall, it was a heated round to watch as the battle for the final commenced, and Poland made its breakthrough.
A DanceSport Fashion Icon
Last but not least, it cannot go unnoticed the costume changes of the one and only Khrystyna Moshenska, who channels various style icons and transforms her image almost each and every competition. Whether it's the hair, the makeup, the shoes, or the costumes, she always surprises all who watch her with her new and always changing look. For this reason alone, she is a legend in her own character, personality, and endless belief in what she does—a true role model and icon for those who one day want to be just like her and a true champion in all aspects.