2019 WDSF GrandSlam Taipei City Latin and Standard
Top Russian Duo Earns Their 12th Latin GrandSlam Title
Top Russian Duo Earns Their 12th Latin GrandSlam Title
Armen Tsaturyan and Svetlana Gudyno of Russia have earned their 12th WDSF GrandSlam title, winning in Taipei.
Jun 3, 2019
by Michelle Blank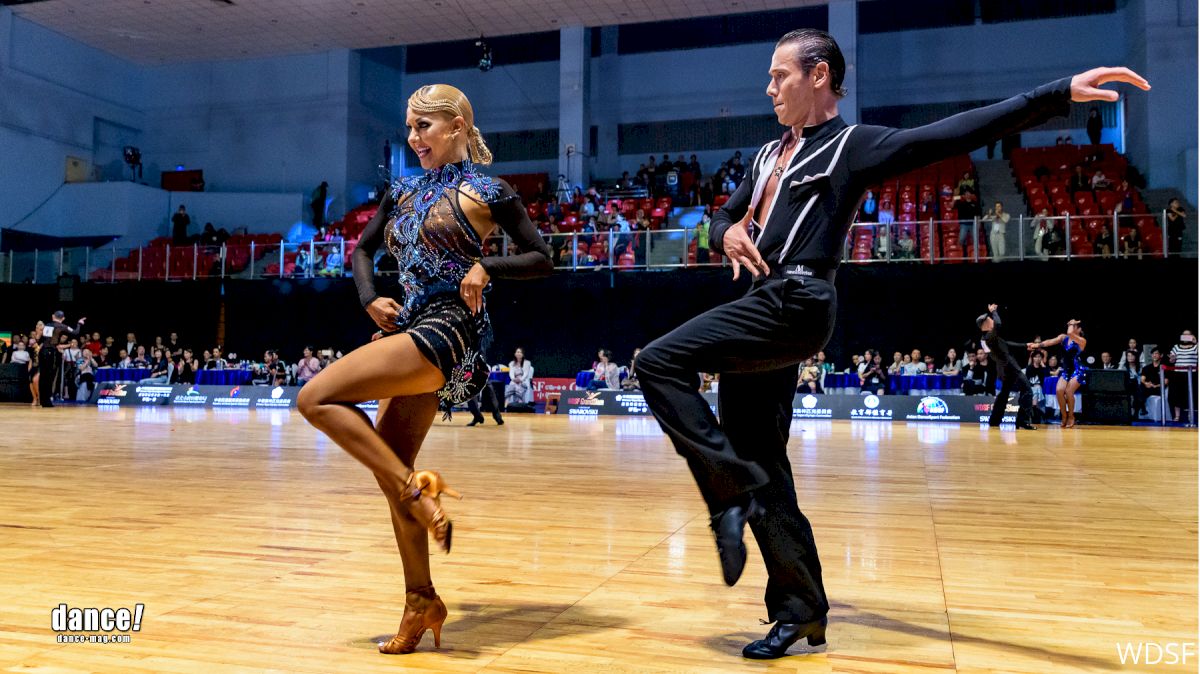 Armen Tsaturyan and Svetlana Gudyno of Russia have done it once again! Here in Taipei, they have earned their 12th WDSF GrandSlam title, and they did it with an air of impeccable ease. The night was theirs and they owned it.
Our runners-up were none other than the beloved Marius-Andrei Balan and Khrystyna Moshenska of Germany. Moshenska posted on Instagram detailing that this was quite a difficult competition for the couple emotionally. Just last weekend, they gave all that they had to their performances at the 2019 WDSF European Championship that was held in Paris. She wrote, "part of our souls were left there."
Very surprisingly, they did not score in the 39th percentile range for any one dance. For each dance, their scored ranged in the 38th percentile. Nonetheless, they wrote how very grateful they are to the event and its organizers as well as to their sponsors and fans. Now they shall be off for a long-awaited and much-deserved vacation before their next competition, which shall be Wuppertal in the beginning of July. We wish them happy relaxation and lots of energy for their next performance!
Taking the last pedestal placement, we have Andrey Gusev and Vera Bondareva of Russia finishing in third, scoring in the 37th percentile range for each dance. Due to Timur Imametdinov and Nina Bezzubova of Germany not participating here in Taipei, their absence allowed for all couples to move a step up in ranking, including Gusev and Bondareva who usually place fourth in GrandSlam events. Next up were Andrea Silvestri and Martina Varadi of Hungary, placing fourth and Edgar Marcos Borjas and Alina Nowak of Poland placing fifth.
A Major Win for Estonia
Probably the most exciting event of the evening was the result concluded by Estonian pair Konstantin Gorodilov and Dominika Bergmannova, who made their very first GrandSlam final, placing sixth. Usually, for GrandSlam rankings, they end up around ninth position, as in Bucharest in March this year. In this very same GrandSlam last year, they were tenth.
For comparison, they marked higher than Poland's Jakub Lipowski and Diandra-Aniela Illes, who in Bucharest were seventh in the semifinal, while Gorodilov and Bergmannova were ninth.
Here in Taipei, Lipowski and Illes finished eighth in the semi, but the Estonian couple transitioned one more round ahead. A major congratulations to Gorodilov and Bergmannova—every dancer remembers the first time they make a GrandSlam final—it truly becomes a mark on history, a moment to cherish forever.
Also to mark, Borjas and Nowak were in eighth position in Bucharest and now made the final, ending in fifth. Their sixth-place at the European Championship just last weekend also marked a fantastic breakthrough for the couple, showing their progress and stability in technical and performance strength.
A Victory for Italy & Romania As Well
We also saw a breakthrough for Italian duo Vito Coppola and Oona Oinas, who ended up finishing ninth. In Bucharest, the couple did not even make the semi. Here in Taipei now marks their highest placement at a WDSF GrandSlam ever! They surpassed competitors Anton Aldaev and Natalia Polukhina of Russia and Winson Tam and Anastasia Novikova of Canada, two couples who usually place higher than them.
Last but not least, it is important to mark that Romania's Paul Moldovan and Cristina Tatar also placed their highest ever in a GrandSlam: they finished in seventh right behind the final! Their usual placements in GrandSlams are around the 11th to 14th positions, so finishing at the top of the semi-final round is a true achievement.
The next WDSF GrandSlam will be in Rimini, Italy, in mid-July so all of the couples are off in their preparation for this next huge summer event—sure to be hot in all ways!
Soon, we shall take a look at the results of the Standard counterpart GrandSlam taking root today in Taipei. Will there be as many surprises in the ranking as in our Latin competition? We shall soon see! Stay tuned!