Top Latin Dancers Gather In Paris For European Champs
Top Latin Dancers Gather In Paris For European Champs
Paris plays host to the 2019 WDSF European Championship Latin, here's what to expect.
May 24, 2019
by Michelle Blank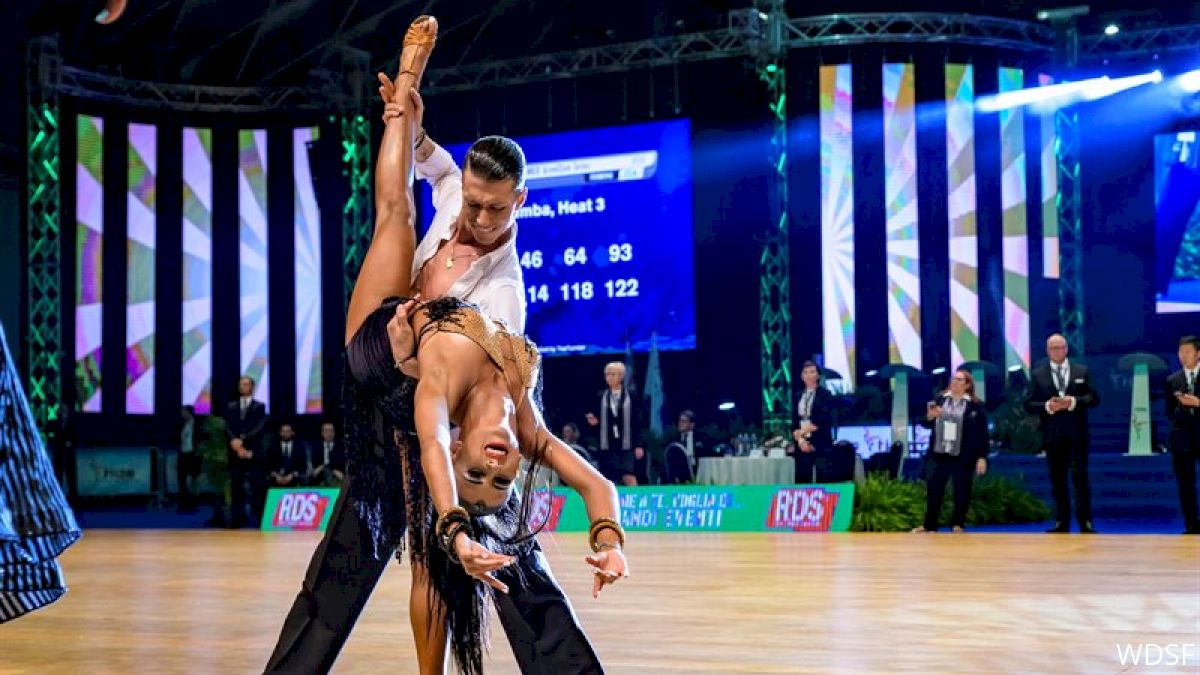 Just two weeks ago, we had the luxury of being able to experience the heat of the Standard leg of competition at the WDSF European Championship held in Salaspils, Latvia.­ Now, we would like to "bienvenue," welcome you, to Paris! The time has come this Saturday, May 25, for the Latin dancers to take to their stage and show their best dancing for yet another major event of the year.
An Annual Turning Point Experience for European Dancers
For couples representing European countries, there are various annual events that serve as highlights of the calendar year. Such events include a country's national championship, the World Championship, as well as the European Championship, such as the one upcoming this very weekend.
The majority of DanceSport athletes reside and train in European countries, with the bulk of the strongest and most talented coaches in the world located right there with them, therefore, the knowledge and quality of education is truly priceless, and for many, unattainable from other parts of the world.
Even with Asia increasing in its quantity and quality of dancers, Europe is still considered the center of DanceSport. As a result, European Championships are yet another way to pinpoint the best-of-the-best dancers that exist in any point in time. It is truly a grand title to acquire.
Keep Your Eyes Peeled For...
As you already may know, representatives selected to compete in the WDSF European Championships are limited to two couples per WDSF member body country. Each country varies in how it selects its representatives. For some nations, the top two couples as qualified and ranked by the country's own national championship are selected, while other times it may be the first and third strongest couples. Currently, we see 65 couples on the starting list for this Saturday, all eager to fight for the title of European Champions.
Armen Tsaturyan and Svetlana Gudyno (Russia)
Last year's Latin European Championship was sanctioned in Debrecen, Hungary, on May 12. A total of 63 couples made appearances, with Armen Tsaturyan and Svetlana Gudyno taking the third European Latin title of their careers.
They earned their first European title in 2015, beating out competitors Gabriele Goffredo and Anna Matus of Moldova, who only three weeks prior, ranked higher at the WDSF GrandSlam held in Helsinki, Finland. There, Tsaturyan and Gudyno came in third, with Goffredo and Matus taking the silver and Aniello Langella and Vera Bondareva of Italy winning the gold.
However, a year later, the results of the 2016 European Championship jolted the Russian couple, who dropped down to third place. Nevertheless, 2017 brought back their revival as champions, a position they secured once again last year. Now, they are back to fight for the European title once again.
Marius-Andrei Balan and Khrystyna Moshenska (Germany)
Fighting for the title will also be Marius-Andrei Balan and Khrystyna Moshenska of Germany, who have twice finished runner-up at this event (2016, 2018) and are hungry to take the gold.
This weekend holds another key to the chain of events that will mark the competitive season of all WDSF athletes, especially before such monumental annual events like the World Championship which for the Latin dancers, will be in just a few months in September. Every event is now a preparation for the major shot: every event is like a World Championship itself, especially for such couples as Balan and Moshenska who will vie for a world title this year.
The Main Fight
For Spanish couple Guillem Pascual and Rosa Carne this event provides yet another major stepping stone for their competitive year, as last year marked their first entrance into the final of a Latin European Championship. Their highest placement in this event previously was a spot in the semis, but 2018 saw them dancing in the top six.
Will they be able to repeat such a feat and make it into the final once again, or will another couple take their spot? It may very well be that we will see Poland's Edgar Marcos Borjas and Alina Nowak sneak their way into the final round. It was only a 0.002 difference from Borjas and Nowak making the final of last year's European Championship.
Let's take a quick peek recap at the results of the 2018 World Championship semifinal that took place last October to compare standings with the 2018 European Championship:
| | | |
| --- | --- | --- |
| Rank | Couple | Country |
| 7. | Edgar Marcos Borjas - Alina Nowak | POL |
| 8. | Umberto Gaudino - Louise Heise | DEN |
| 9. | Guillem Pascual - Rosa Carne | ESP |
| 10. | Konstantin Gorodilov - Dominika Bergmannova | EST |
| 11. | Jakub Lipowski - Diandra-Aniela Illes | POL |
| 12. | Moldovan Paul - Tatar Cristina | ROU |
Just five months separated the 2018 European Latin Championship and the 2018 World Latin Championship, and we see that Borjas and Nowak were right behind the final at worlds in seventh place, while the Spanish couple was actually behind them in ninth. The standings were reversed.
In addition, we will not be seeing Gaudino and Heise of Denmark here in Paris, so that also brings Konstantin Gorodilov and Dominika Bergmannova of Estonia, Jakub Lipowski and Diandra-Aniela Illes of Poland, and Paul Moldovan and Cristina Tatar of Romania into the fight of making the top six.
All of these couples are always very tightly packed in terms of scoring, just as last year's European Championship proved. It's for this reason that we can't wait to see how the final results shall play out.
We will hope to greet you all this weekend at the Stade Pierre de Coubertin of Paris as FloDance will be streaming live the 2019 WDSF Latin European Championship! Another exciting experience comes our way. Stay tuned!