2019 WDSF World Open Latin and Standard
Edgars Linis & Eliza Ancane Of Latvia Win World Open Gold
Edgars Linis & Eliza Ancane Of Latvia Win World Open Gold
Iberica DanceSport has officially come to a close here in Cambrils. The Standard World Open concluded just yesterday and the results are in.
Apr 22, 2019
by Michelle Blank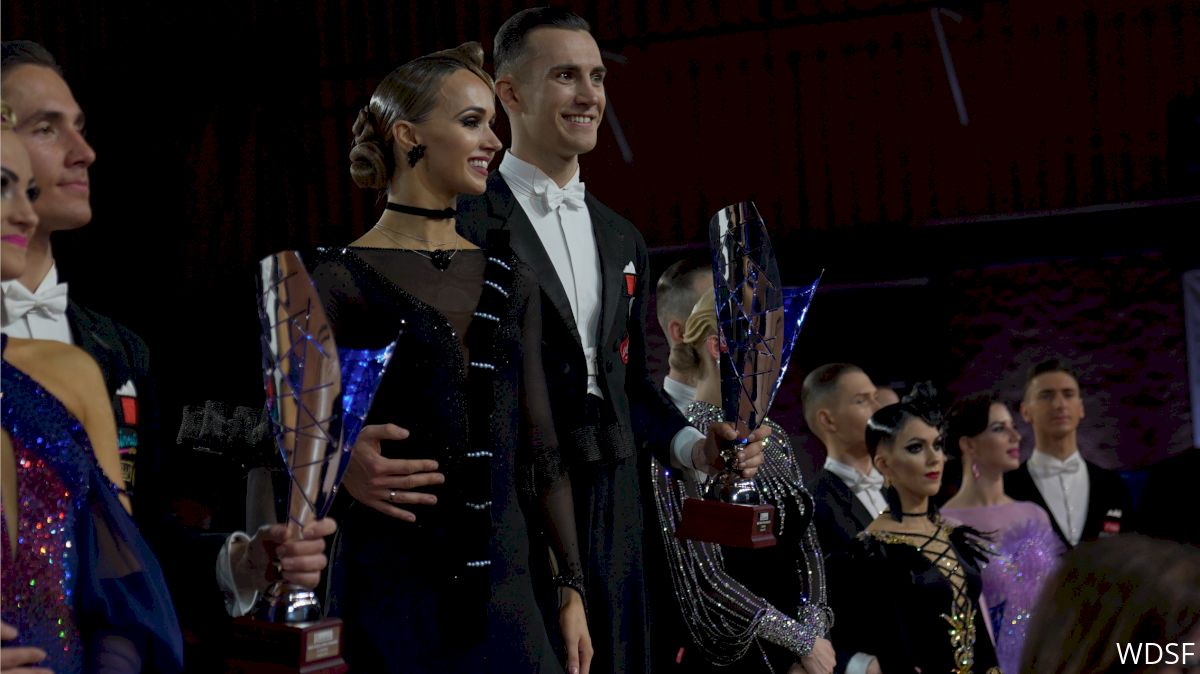 Hasta la vista, Spain! Iberica DanceSport has officially come to a close here in Cambrils, and it was quite the weekend, indeed. The Standard World Open concluded just yesterday and the results are in.
From a total of 58 couples, Edgars Linis and Eliza Ancane of Latvia finished with the gold. Our anticipated champions were deemed to be Alexey Glukhov and Anastasia Glazunova of Russia, but unfortunately, they did not take part in this event. Nonetheless, it was a victorious night for Linis and Ancane for whom the audience went wild.
Countdown from 58
The World Open began with the first round. The Star couples of this event did not dance the first round but were automatically transferred to begin dancing from the top 48: round 2. With the inclusion of the Star couples, a total of 30 couples made it through round 1. The remaining 28 took part in the re-dance, a second chance to make it into the next round. Eighteen made it through the re-dance, while 10 couples stayed behind. Now we had the top 48 of this World Open.
The second round commenced, after which the quarterfinal was danced with the top 24 couples. Sharing the 23rd/24th positions were Volodymyr Kasilov and Yulia Dreier of Switzerland and Denis Gudovsky and Maria Izotova of Russia.
Kasilov and Dreier just recently concluded a World Open held in Berlin on Friday, April 19, and were here in Spain just two days later to take part in yet another WDSF World Open—the true spirit of passion and dedication evident in such DanceSport athletes. Gudovsky and Izotova, being a Ten Dance couple, also competed in the Latin World Open on Saturday. For many couples, the dancing season never concludes.
Finishing 13th, just seven recalls from making the semi, American couple Alexander Munteanu and Anna Sheedy concluded their adventure here in Spain. Into the semi, Luciano Donato and Adele Diodati of Italy finished in 12th. What is quite fantastic to understand is that this is a couple still in the Under 21 age division!
The very same day as the Standard World Open here in Cambrils, Sunday, April 21, they also took part in the WDSF Under 21 Standard Open event, which they finished with the gold. Couples such as this are those that rise to become champions in the years to come.
Let's Compare to Bucharest
The top six couples of this Standard World Open placed as such:
| | | |
| --- | --- | --- |
| 1. | Edgars Linis - Eliza Ancane | LAT |
| 2. | Dmitri Kolobov - Signe Busk | DEN |
| 3. | Marco Sirocchi - Kilin Dora | ROU |
| 4. | Alexey Bredikhin - Daria Bredikhina | RUS |
| 5. | Matteo Cicchitti - Simona Brecikova | SVK |
| 6. | Matteo Del Gaone - Ekaterina Utkina | RUS |
Five of the six couples above took part in the first WDSF GrandSlam of the year that took place in Bucharest, Romania, in the middle of March. Only Denmark's Kolobov and Busk did not participate. Let's compare quickly the above couple's standings from a month ago to now: which couples rose in rankings and which fell?
Linis and Ancane, our champions here in Spain, placed highest in the GrandSlam—11th in the semifinal. Russian couple Bredikhin and Bredikhina, who took fourth here in Cambrils, placed higher than Romanian couple Sirocchi and Dora in Bucharest. Bredikhin and Bredikhina were 17th and Sirocchi and Dora finished 20th. However, we see the tables turned in just one month. Romania took the bronze here in Cambrils, but Russia did not make pedestal placement.
Del Gaone and Utkina of Russia were 22nd in Romania, while Cicchitti and Brecikova of Slovakia did not make the quarterfinal but finished in 30th position. Now in Cambrils, they switched ranking places, Slovakia taking fifth and Russia sixth.
Nothing is Ever Certain
This is the true beauty of sport—through the hunger and endless dedication of athletes, just one month can produce a significant difference not only in performance, but in results as well. It becomes quite interesting to keep up with the success of couples and how they do from one event to the next.
Of course, we can say that politics has a lot to do with it, but many coaches have said that if you dance two-heads ahead of your competitors, you will get exactly the placement you deserve. Hard work does pay off and we see this clearly by the placement of our couples here in Cambrils, even in relation to the GrandSlam they competed in just one month ago.
Up Next
Next, we are up to streaming the Salaspils Open next month in the beautiful Baltic country of Latvia, where we will witness not only the 2019 WDSF European Standard Championship, but also the 2019 WDSF European Latin Cup. We invite you to travel with us and be a part of some the strongest events of the year for the competitors of the World DanceSport Federation. Stay tuned!