2019 UCWDC Calgary Dance Stampede
Boots and Bling: Recap of the 2019 Calgary Dance Stampede
Boots and Bling: Recap of the 2019 Calgary Dance Stampede
FloDance runs down the highlights of the 2019 Calgary Dance Stampede, Canada's largest and longest running country, West Coast swing, and line dance event.
Apr 15, 2019
by The Girl with the Tree Tattoo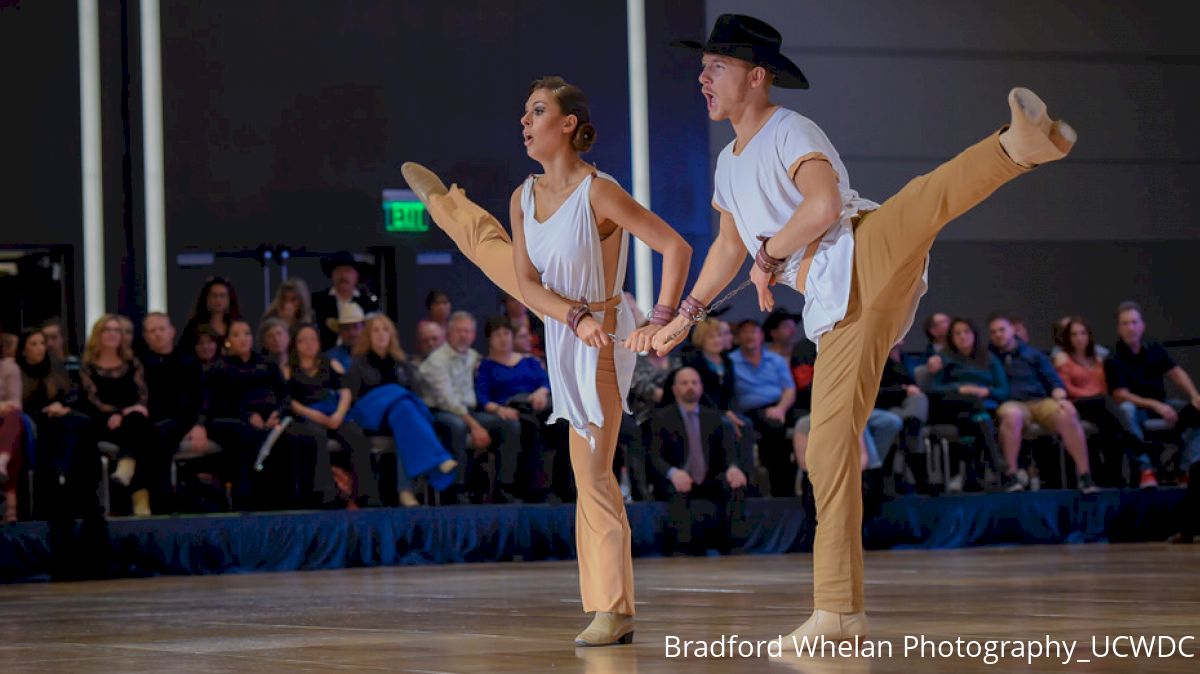 Howdy y'all! It's amazing how much dancing you can fit into one weekend. Along with three days of competition, Calgary Dance Stampede filled five different rooms with ongoing workshops. Day or night, there was dancing to be had.
The competition kicked off on Friday evening in the main dance hall. Intermediate and advanced ProAm (Professional-Amateur) and ProPro couples were the first to take the floor. They danced triple two, polka, nightclub, cha cha, waltz, two-step, East Coast swing, and West Coast swing. Phew! Several couples went head-to-head, as some of the events only had two couples entered. Special performances were another feature of Friday night. The JT Swing Team of Calgary and the Alberta Ballroom Company Swing Team each performed a West Coast swing formation.
Things got even more fun and a little crazy with the Professional "Outlaw" Jack 'n Jill contest. Eleven leads and eleven follows were randomly paired to dance six different dance styles: polka, waltz, cha cha, two step, line dance, and West Coast swing. Just to make it more interesting, the organizers threw in a few twists.
Instead of the normal circular shape that line of dance follows around the floor, the couples had to dance their polka following a figure eight line of dance. For their waltz, they danced a few bars and then the music was played backwards and they had to repeat what they just danced, except in reverse. Cha cha was a role reversal dance, with the followers leading. The two step, line dance, and West Coast swing were all danced normally, although they had only about five minutes to learn their line dance choreography before performing it. Like the MC said, these professional dancers inspired and entertained the audience with their talent, but mostly entertained.
The weekend continued with the ProAm Newcomer and Novice events on Saturday morning. These events had more entries, with the ProAm Female Silver Newcomer event having the most entries at seven couples. If you looked closely, you'd note that there were only four teachers! Three out of the four were dancing with two different students in this particular contest (though not at the same time). More dancers mixed it up in country swing and country two-step Jack 'n Jill contests. Can you imagine being paired up with your dance partner the second before you're supposed to dance?
Following the Jack 'n Jills were the Couples Classic Crown, Line Dance Superstars, Classic Masters, and Showcase Masters contests. These events bring some of the top dancers in country western dancing. Even though superstars Guillaume Richard (from France) and Fiona Murray (from Ireland) were uncontested, they put it all out on the dance floor. Their waltzes were particularly mesmerizing. Their grace, agility, strength, and control kept me glued to the action. Same went for the uncontested Showcase Masters couple, Jeremy and Kelly Bryan. They gave it their all for their audience and you could tell they were having a blast at the same time.
Sloane Hansen and Bernadette Carmichael were the winners of the Classic Masters event, the highest level for country western dancing. They were runners-up at the world championships, and this is their second win for the 2019 season, so keep an eye on this couple!
Saturday concluded with the famous Campfire Ball. A series of extraordinarily talented dancers performed a broad array of dance styles, including country western, dancesport, contemporary, Argentine tango, and traditional dances from Ukraine and Ireland. It was incredible to witness such variety in one place!
Couples and line dance events finished off the competition on Sunday. I have to give props to the uncontested line dancers who went out and performed by themselves. Competing is challenging enough, but when you know all eyes are on you because there is no one else out there? I get nervous just thinking about it! These dancers weren't phased. They danced from a place of joy and fun, so who cares who's watching?
Even though the Calgary Dance Stampede is Canada's largest and longest running country, West Coast swing, and line dance event, my impression from watching the livestream is they've still managed to maintain a familiar atmosphere that's warm and welcoming. The MCs did a fantastic job of interacting with the audience and keeping the fun at a maximum and stress at a minimum. No one's forgotten the main reason we're all here—because we love to dance!
Congratulations to all of the dancers on such amazing performances this weekend. See y'all next time!