2019 WDSF PD Super Grand Prix Latin and Standard
Bjorn Bitsch & Ashli Williamson Win Gold At Pieve di Cento Super Grand Prix
Bjorn Bitsch & Ashli Williamson Win Gold At Pieve di Cento Super Grand Prix
The Star Championships of Pieve di Cento have come to an end and Ashli Williamson and Bjorn Bitsch won gold in the Professional Standard division.
Mar 25, 2019
by Michelle Blank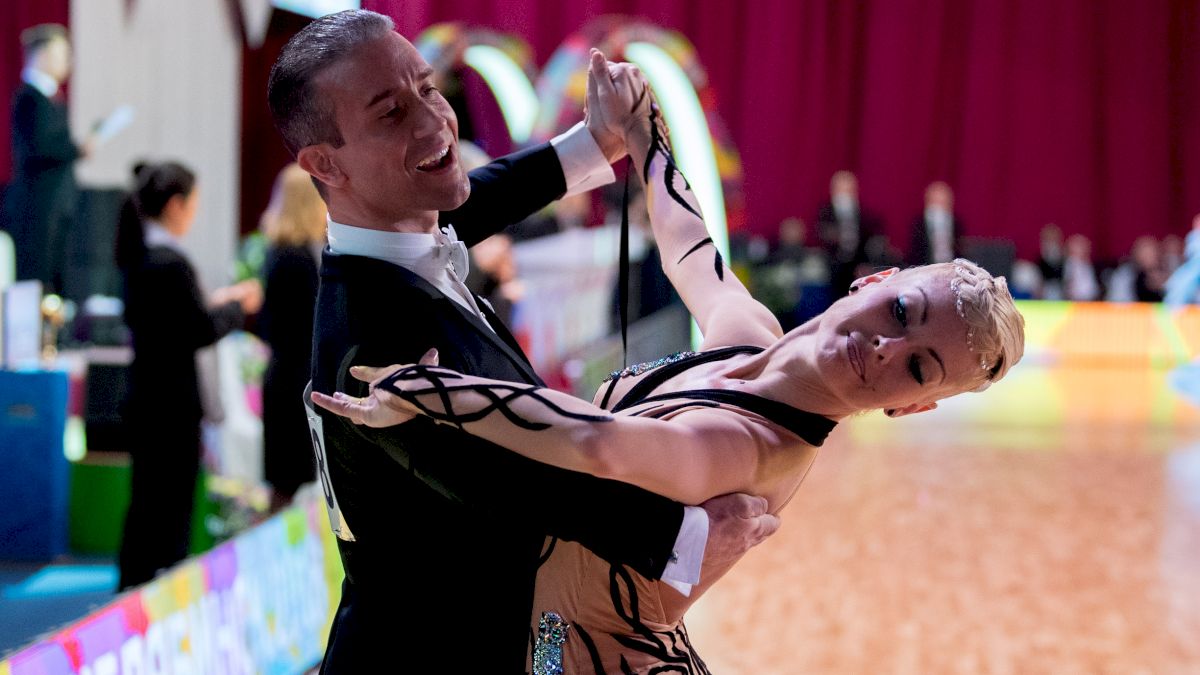 And it's a wrap! The Star Championships of Pieve di Cento have come to an end. It was a weekend packed full of emotions and a competitive atmosphere like no other, many referring to it as one of the competitions they look forward to each year.
Denmark Takes Gold
The WDSF PD Standard Super Grand Prix concluded our live streaming of the event yesterday, and we were struck by many surprises along the way.
Professional Standard and 10-Dance World Champions Bjorn Bitsch and Ashli Williamson of Denmark made their appearance, an appearance that we were not expecting when we took a previous look at the starting lists last week before the event. Just last year, they were competing at this various same competition, but in the amateur division, taking part in the WDSF World Open where they finished third in the final. Just a year later and the Danish couple now takes the gold, but this time as professionals.
The Best of Pieve di Cento – Professional Standard
Let's take a look at the scores of the top six finalists of the Standard program.
| | | | | | | | | |
| --- | --- | --- | --- | --- | --- | --- | --- | --- |
| RANK | COUPLE | COUNTRY | WALTZ | TANGO | VIENNESE WALTZ | SLOW FOXTROT | QUICKSTEP | TOTAL |
| 1. | Bjorn Bitsch - Ashli Williamson | DEN | 38.250 | 38.150 | 38.300 | 38.450 | 38.350 | 191.500 |
| 2. | Nikolay Darin - Natalia Seredina | MDA | 37.400 | 37.700 | 37.750 | 37.650 | 37.450 | 187.950 |
| 3. | Cheng Dan - LI Zhenni | CHN | 35.838 | 35.875 | 35.876 | 36.176 | 36.075 | 179.840 |
| 4. | Andrey Motyl - Ekaterina Kim | RUS | 36.100 | 35.900 | 35.650 | 35.850 | 36.100 | 179.600 |
| 5. | Alessandro D'Amora - Maria Gorelik | ITA | 34.850 | 34.750 | 35.000 | 34.950 | 34.600 | 174.150 |
| 6. | Victor Presnetsov - Vera Nam | RUS | 33.450 | 33.500 | 33.700 | 34.000 | 33.850 | 168.500 |
When we first took a look at the starting list for this event, we were expecting Nikolay Darin and Natalia Seredina to take the top spot on the podium as Bitsch and Williamson were not registered to compete. However, with the appearance of the World Champions, Darin and Seredina of Moldova claimed the silver, their total score in the final 3.55 points below first place. What is quite interesting is that last year, just as with Bitsch and Williamson, Darin and Seredina also took part in the World Open Standard here in Italy as amateurs. The dancers from Denmark, as we know placed third, but the couple from Moldova placed higher in second!
This is actually only the second Super Grand Prix for Darin and Seredina, their one being in Toyko just two weeks ago, an event where they placed first. Nonetheless, Denmark still holds first place in the World as indicated by December's Professional World Championship, and Moldova the bronze. We anticipate watching them compete in the future. We will make sure to keep a keen eye out for how they place in relation to one another.
China Take the Bronze – A True Couple of Growth
Now, take a closer look at our bronze medalists here in Pieve di Cento. This couple from China has been in the WDSF Professional Division since 2014, taking part in 12 WDSF Super Grand Prixs throughout the extent of their careers as Standard competitors. Their very first Super Grand Prix was in August 2014 in Stuttgart, Germany, and they finished in 37th position out of 58. Now, they are at the top of the WDSF Professional Division! Such is the journey of DanceSport competitors, the true journey of dedication, never-ending dedication and a passion, a true love for dance and competition. It is a constant struggle to becoming better than you were yesterday, as with any sport.
In Toyko, just two weeks ago, Andrey Motyl and Ekaterina Kim of Russia finished ahead of Dan and Zhenni, the Russian dancers taking the silver and the Chinese couple the bronze. Here, just a short time later, Dan and Zhenni took the lead. A very commendable feat for the couple—a true inspiration and role model couple for DanceSport generations to come!
It was quite the experience to watch the elite of DanceSport here in Italy and we look forward to the next event to take place in Cambrils, Spain, where we will be catching the WDSF World Open events in both the Standard and Latin divisions April 20-21!