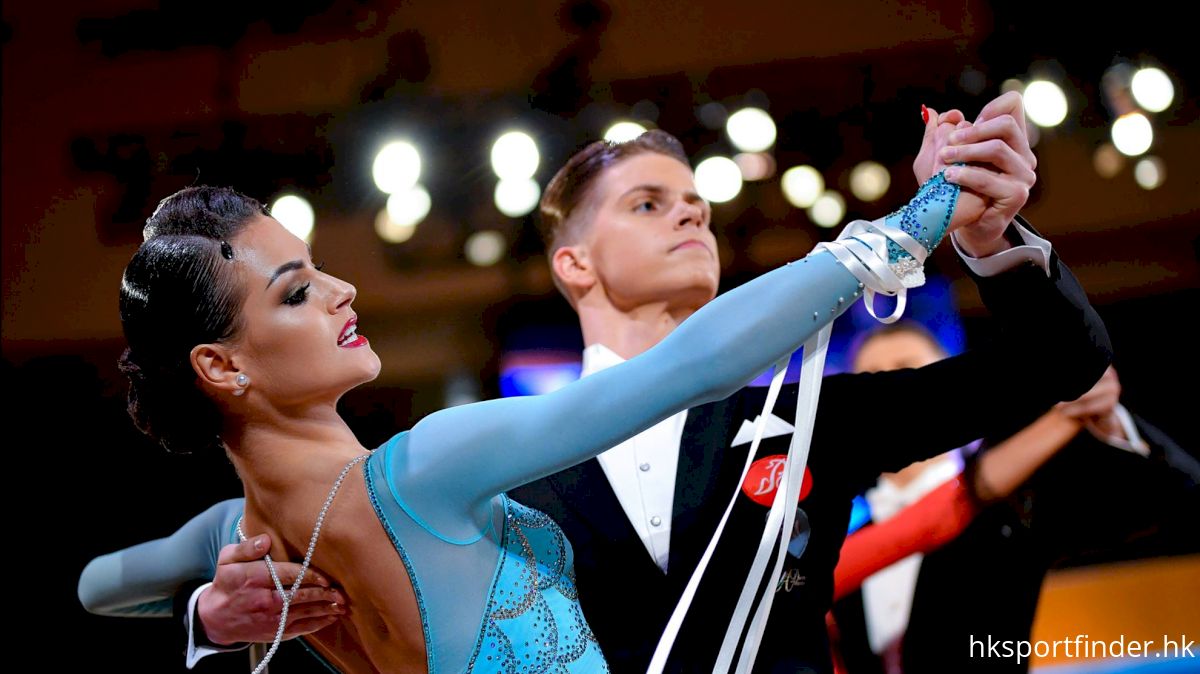 And the results are finally in! Just as predicted, Madis Abel and Aleksandra Galkina of Estonia have taken the glory of the 2018 WDSF Standard World Cup. This is their first year attaining such a title, for which their future holds no barriers. In their early twenties, this couple is the youngest to be at the top of the WDSF World Ranking Leaderboard, holding 6th place at 4,919 points.
In second place, Evgeny Nikitin and Anastasia Miliutina of Russia danced their second World Cup in a row. Last year, they placed in third, but now they bring back to their country the silver medal - moving up the pedestal ladder one step at a time - an exhilarating feeling.
A miraculous standing is shown by the bronze medalists, Dmitri Kolobov and Signe Busk of Denmark. This couple made its breakthrough here in Chengdu at a most astounding time - a WDSF World Cup. Last year, they came in 5th and now they jumped ahead onto the pedestal. Dancing together since 2011, Dmitri and Signe placed higher than Edgars Linis and Eliza Ancane of Latvia, who by their WDSF rankings, should have come in third. However, that is the amusement and entertainment of true sport competition. No one is ever safe in the position that they bear. Someone else behind you will always want to take that position away from you and obtain it for themselves. If we rewind a bit to the previous two WDSF Standard Grand Slams, let's compare how both the Latvian and Denmark couples placed in Rimini and Stuttgart.
Rimini, Italy: July 14th, 2018
Edgars and Eliza placed in the semi-final, taking 9th place while Dmitri and Signe did not make the semi, but were at the top of the quarter-final in 14th position.
Stuttgart, Germany: August 9th, 2018
The following month, both couples ended up in the quarter-final. This time, Edgars and Eliza were 14th and Dmitri and Signe were 17th.
Looking at the results of this Standard World Cup, Dmitri and Signe conquered their Latvian competitors, who have constantly been taking the headway competition after competition. Such a breakthrough is rare to be seen, but is definitely a memorable affair for all those who witness it. These results prove the importance of never giving up, but rather fighting for the chance to show your true greatness.
An Interesting Finding
With the Standard division of the World Cup officially concluded, we notice an interesting trend in the final standings of the scores of the couples. Not directly visible on the surface, if we dig a little deeper, we find out some unexpected information. To start, let us look at the final standings of last year's WDSF Standard World Cup held in Johor Bahru, Malaysia on August 26th.
2017 WDSF Standard World Cup
| | | | |
| --- | --- | --- | --- |
| RANK | COUPLE | COUNTRY | TOTAL SCORE |
| 1. | Francesco Galuppo - Debora Pacini | Italy | 184.413 |
| 2. | Vasily Kirin - Ekaterina Prozorova | Austria | 181.541 |
| 3. | Evgeny Nikitin - Anastasia Miliutina | Russia | 179.725 |
| 4. | Edgars Linis - Eliza Ancane | Latvia | 177.539 |
| 5. | Dmitri Kolobov - Signe Busk | Denmark | 174.333 |
| 6. | Dumitru Doga - Sarah Ertmer | Germany | 171.307 |
Now, let us compare to this year's final standings and the scores of the top 6 couples.
2018 WDSF Standard World Cup
| | | | |
| --- | --- | --- | --- |
| RANK | COUPLE | COUNTRY | TOTAL SCORE |
| 1. | Madis Abel - Aleksandra Galkina | Estonia | 179.29 |
| 2. | Evgeny Nikitin - Anastasia Miliutina | Russia | 174.48 |
| 3. | Dmitri Kolobov - Signe Busk | Denmark | 170.38 |
| 4. | Edgars Linis - Eliza Ancane | Latvia | 168.37 |
| 5. | Patrick Rucinski - Tatiana Veselkina | Canada | 165.50 |
| 6. | Dariusz Mycka - Madara Freiberga | Poland | 164.61 |
Is it visible yet? The scores of the couples' this year who placed in the final range from 164.61 to 179.29. Last year, the scores ranged from 171.307 to 184.413. That is quite the difference in the range of scoring - a major difference! A combination of the judging panel selected, the scores of the judges, and of course the dancing of the competitors itself combines to establish set totals. Knowing their dance has been scored lower than previously before, it's time for the hunger to kick in again as the dancers prepare themselves for the next event that they shall compete in. The push is on!
We shall be staying tuned for the Latin World Cup coming up tomorrow, September 9th, 2018, streamed live here on FloDance! How will the final standings play out this time?