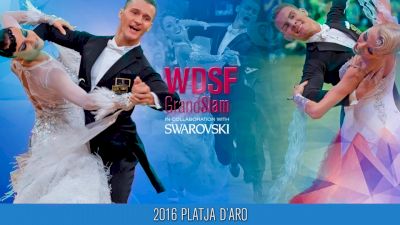 Unlock this video, live events, and more with a subscription!
Get Started
Already a subscriber? Log In
2016 WDSF GrandSlam Standard Platja d'Aro Promo
Sep 17, 2018
Four GrandSlam legs have been danced in Standard this year, two went to the 2015 World and the 2016 European Champions, Dmitry Zharkov and Olga Kulikova, RUS, and two went to Simone Segatori and Annette Sudol, GER, who had held the same titles one year earlier.
The Russians had extended their winning streak from November 2015 through June 2016, more than six months, until they had to succumb narrowly to the Germans in the Hong Kong leg. Maybe it was that loss that had Dmitry and Olga decide to stay away from the fourth leg of the 2016 Series in Stuttgart, GER, and to try to regroup in Russia. Despite their policy to "dance anywhere at any time" that they adhered to in the past.
Now that we have Dmitry and Olga here with us in Platja d'Aro, their opponents, Simone and Annette, have chosen to take a short sabbatical after their last win in the Boston World Open at the beginning of the month. From what we hear, they have travelled to China to train dancers there. Something we can hardly blame them for, because teaching and training others is an important aspect of gaining one's livelihood in top-level DanceSport: the prize money alone would definitely not be enough.
At the same time we are also aware that "avoidance" is the name of the game frequently played ahead of a World Championship. Couples steering clear of one another during the weeks and even months leading up to the pinnacle championship is one way of building up drama – and it also helps to avoid that one couple could get cast as a runner-up too soon. The World Championship Standard in Aarhus, DEN, is exactly two weeks away
In any case, virtually all the top Standard couples are present and ready to dance for the win in the last regular leg of the Series that was scheduled to take place in Moscow, RUS, on 29 October. But ill-guided Russian officials cancelled it. That all these couples, including the entire elite from Russia, have made it to Catalonia in northeastern Spain is an achievement in itself, as the relocation was decided on less than two weeks ago.
A 6-camera production in High Definition covering the decisive stages of the 2016 GrandSlam Standard Platja d'Aro. With full graphics but without commentary. The programme is made up of four parts: the full-length semi-final, interviews with the finalists, the full-length final and interviews with the medallists.
Produced by the WDSF Communications team in collaboration with host broadcaster High TV and the organiser Publiolimpia. All rights reserved © 2016!
Music: Casa musica casa-musica.de